Who was Harry Worcester Smith?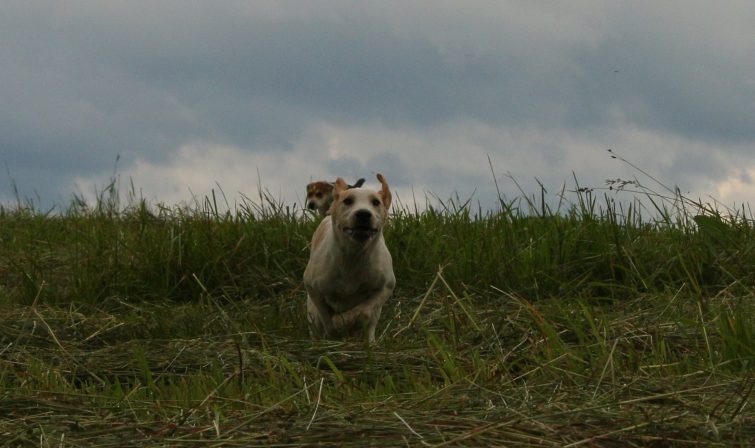 Anything that smells like this, if it had any sense at all, should run.
read more
My husband gave me my first horse in the early 1980s and I pursued foxhunting much like a hound puppy follows his first quarry—with sloppy but keen, even naïve, enthusiasm.
I have since found that foxhunting, besides being politically incorrect and so … two-centuries-ago…is spectacularly dangerous, exciting, fascinating from an animal-behaviorist point of view, remarkable from a historical point-of-view, filled with literary appeal and always, in every way, beautiful.
Foxhunting, from a rider's point of view, is, well, absolutely addictive.
So it was no surprise that, after earning an MFA in writing and literature from the Writing Seminars at Bennington College in 2012, I fell in love with the story of The Great Hound Match of 1905 when I encountered Hig and Harry in the stacks of the National Sporting Library and Museum in Middleburg, VA, where I served as a John H. Daniels Fellow.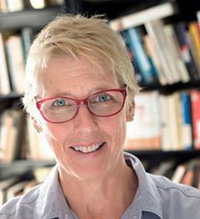 On our farm in the northern Shenandoah Valley of Virginia, we have raised three boys, a bunch of Connemara ponies, a couple of donkeys, a few cats who refuse to catch mice, hundreds of baby pheasants, some pigs and a couple of steers. Each summer we "walk" foxhound puppies for the Blue Ridge Hunt.
MARTHA WRITES
---

I'm currently writing the biography of Mary Lee Settle (1918-2005) literary visionary and native of my hometown, Charleston, WV. Over fifty years she published 13 novels, 4 memoirs and dozens of essays. WWII WAAF, Vietnam War protestor,  intrepid traveler, insatiable reader, incessant writer and wicked wit with a legendary, occasionally volcanic, temperament, her crowning achievement is The Beulah Quintet, a five-novel history of West Virginia's settlement and industrialization. In 1978 Settle won The National Book Award for Blood Tie. In 1981 she co-founded the PEN/Faulkner Award for Fiction.
PRESS FOR THE GREAT HOUND MATCH OF 1905
"Wolfe writes about history as if it were contemporary…Martha's portraits of small-town Virginia huntsmen and their horses and dogs have the metaphorical heft and the linguistic elegance of the many others who have written about hunting before her."
-Susan Cheever, author of E. E. Cummings: A Poet's Life and American Bloomsbury: Louisa May Alcott, Ralph Waldo Emerson, Margaret Fuller, Nathaniel Hawthorn, and Henry David Thoreau
More Love
"Martha is a gifted storyteller."
Brian Morton, author of the novels Starting Out in the Evening and Florence Gordon
.
"This book deserves to go right up on the shelves with Smith's and Higginson's. It's a thrilling account of a thrilling event, with fascinating background information on the major contestants as well." Horse Country Booksellers
"…a glimpse into the heart of a hippophile." Ben Anastas, author of The Underachiever's Diary, a novel, and Too Good To Be True a memoir.
"Martha is one of those writers whose prose feels effortless…" Dinah Lenney, author of The Object Parade and Bigger Than Life.
"This book is brilliant." Norm Fine, author of "Foxhunting Life, With Hors and Hound," a blog, and Foxhunting Adventures: Chasing the Story.
"The prose is graceful and lively. This book will delight veteran and novice foxhunters, as well as anyone who enjoys a good story. Her exhaustive research qualifies her as an authority to fashion dialogue and describe bone-cracking falls in the voice of an eyewitness." Barclay Rives, The Virginia Sportsman
KUDOS
---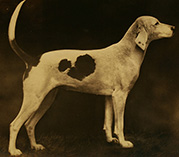 ∗2016 John H. Daniels Fellow at the National Sporting Library and Museum
∗The Great Hound Match of 1905 is a nominee for the Library of Virginia People's Choice Literary Award
Click here to vote: http://www.lva.virginia.gov/public/litawards/vote.asp
∗Guest panelist, 2016 Virginia Festival of the Book in Charlottesville:
∗Guest panelist, 39th Appalachian Studies Association festival, Shepherd College, Shepherdstown, WV.
∗Keynote Speaker, 2016 Virginia Foxhound Association luncheon, Warrenton, VA.
The Wagon Train
All of his best hunting friends had come along for the sport bringing with them strings of horses, tack and chests of necessities, including food and wine of course, for who knew what was available in the backwoods of Virginia? First Philly and then Washington, then deeper and deeper into the countryside behind a decrepit steam engine belching soot and stopping every five miles until it reached The Plains, a crossroads with nothing but the station and a post office, combined. A crowd of Virginians, most very friendly, but some practically jeering, had come to see the Yankees.
[From The Great Hound Match of 1905. Original watercolor by Cuthbert Bradley, 1885. Courtesy of National Sporting Library & Museum Archives.]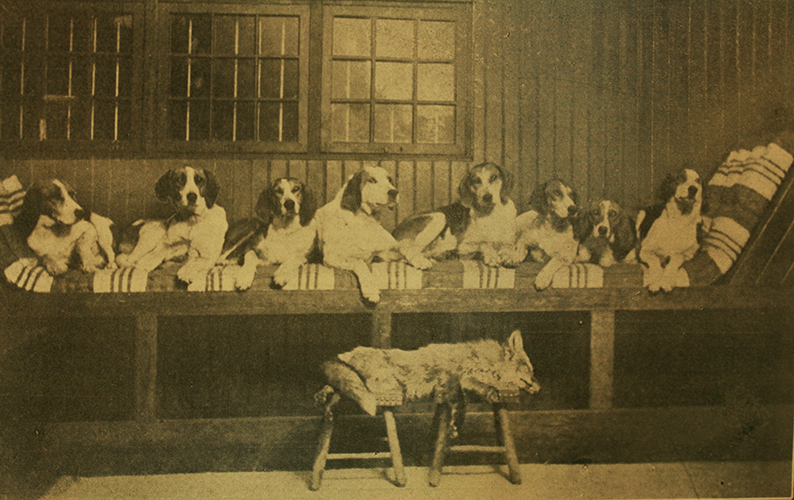 The Pack
Two strangers came to two towns in Virginia bringing with them their separate entourages—private train loads of friends and their horses, trunks of tack, boots, formal and informal clothing, food and wine, servants and of course their hound dogs.
Alexander Henry Higginson of South Lincoln and Harry Worcester Smith of Grafton, Massachusetts had determined that the Loudoun Valley in Virginia's pastoral Piedmont was the best place to prove the relative worth of their chosen foxhounds.
[From The Great Hound Match of 1905. Photo courtesy NSLM]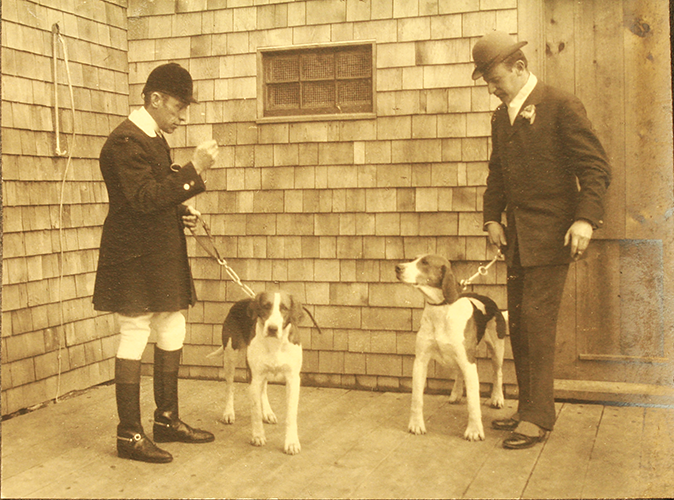 Hound v. Hound
The hounds that Mr. Higginson so adamantly championed were bred in the heart of England's Midlands. Smith had bred his own hounds from stock he had purchased in Virginia and Kentucky. Where Smith's hounds were prized for their unmistakable musical cry, individuality and hard-driving attitude, with or without their pack mates, English hounds were known for their pliability, their obedience and their willingness to stay together and hunt as a pack. For Higginson, the rub was Smith's lack of respect for Tradition and the foxhound's English heritage.
[From The Great Hound Match of 1905. Photo courtesy NSLM]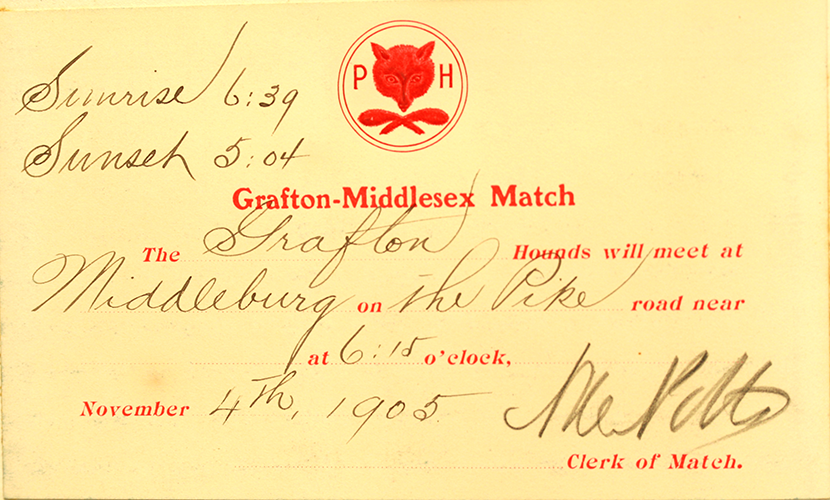 The Match
They hunted sunrise to sundown those first two weeks of November, 1905. The weather was warm and dry the first week, but a rising scent in the second week's frosty mornings sent hounds screaming across the Piedmont Hunt's territory throughout the Goose Creek and Beaverdam Creek watersheds north and south of the Ashby Gap Turnpike.
This fixture card, signed by Allen Potts, editor of The Richmond Times Dispatch and scribe for The Match, announces the time and place for Day 4 of The Great Hound Match of 1905.
[From The Great Hound Match of 1905. Photo courtesy NSLM]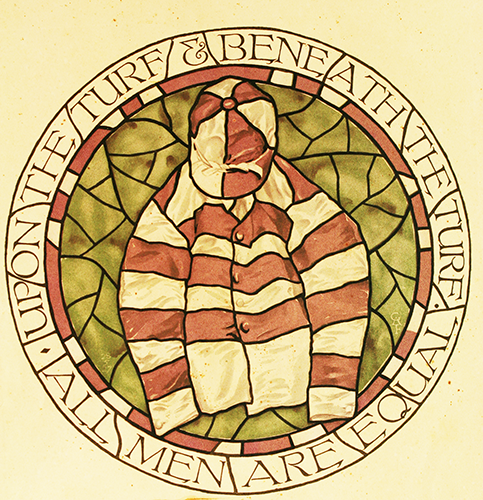 Harry
Harry Worcester Smith not only fit the mold—good conscientious citizen—he
made
the mold: industrial 'harmonizer'(his word), erudite sportsman, bibliophile, art connoisseur and collector, peerless amateur, self-promoter, opinionated capitalist, hard-headed egotist. He could be accused of squandering his wherewithal on the quintessential rich-man's sport—foxhunting—but to Harry foxhunting, steeple chasing, racing thoroughbred horses and hounds weren't just pastimes, they were the key to America's successes at home and abroad. Harry Worcester Smith liked to say that he did everything, always and forever: 'For the Sake of Sport in America.'
[From The Great Hound Match of 1905. Photo courtesy NSLM]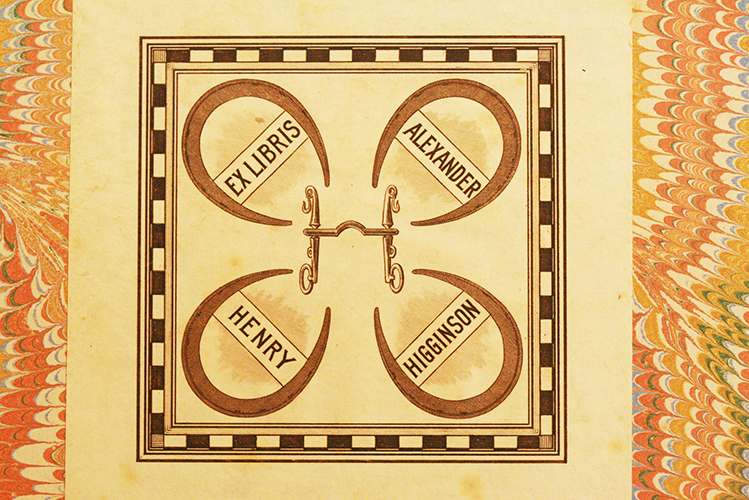 Hig
Alexander Henry Higginson was a Harvard man, a Brahmin of Puritan and Unitarian stock. He tried science, but put it aside; thought of business, but no. He was, above all else, exclusively, a foxhunter. Beginning in his late teens, foxhunting became his passion, his avocation, his vocation. 'We all have hobbies,' he writes in the Preface to an unpublished manuscript, 'Mine is foxhunting. I think of it, dream of it, talk of it all the time.' He took it on, not only as a gentleman's pastime, but as a mantle, an identity, a persona. He was
the
gentleman foxhunter.
[From The Great Hound Match of 1905. Photo courtesy NSLM]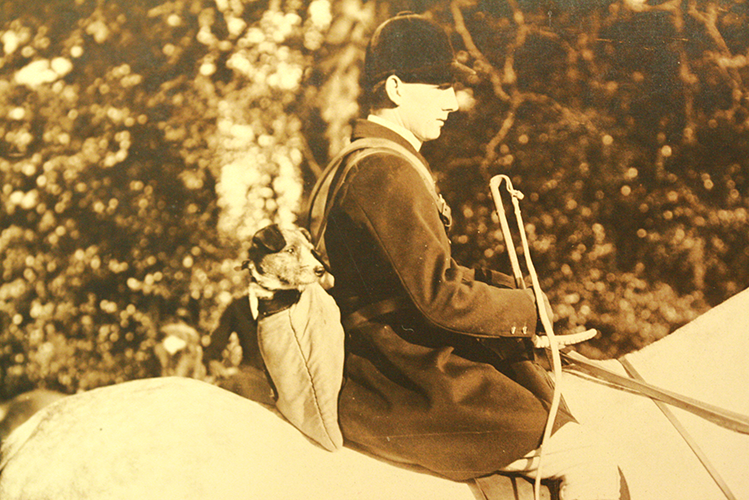 Tally Ho
"You reckon he's under there?" Jim Maddux asked Robert Cotesworth, pointing to a giant boulder. Cotesworth just nodded and continued to congratulate his hounds. "Well done, my bonnies," he crooned to them, and one by one they came to lick the hand that fed them. "You holed your fox," Maddux quizzed the huntsman further. "Why don't you put your terriers to work?" Each of the Middlesex whips rode with a little fox terrier in a pouch on his back. Just now they were both yapping to get down. Cotesworth looked at the boulder, then at the judge and said, "It's not terriers you want sir, but a big stick of dynamite to do the trick."
[From The Great Hound Match of 1905. Photo courtesy Dr. Joseph and Donna Rogers, photographer Herman Haas.]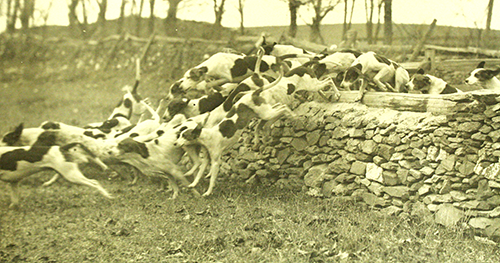 Full Cry
"…it was not until 1898 that I had a chance of seeing a pack of Virginia fox-killing hounds," writes Harry Worcester Smith in his unpublished autobiography. As the guest of H. Rozier Dulany, who would sponsor The Match six years later, Smith got a taste of the country he came to love and the hounds he spent the rest of his life promoting.
He chose hounds from Burr Frank Bywaters' pack, and from Charles Bunning's Cold Springs, Kentucky pack for his primary stock. Within three seasons he had purchased over 150 hounds. This picture of American foxhounds was taken in Leesburg, Virginia, in 1909.
[From The Great Hound Match of 1905. Photo courtesy NSLM]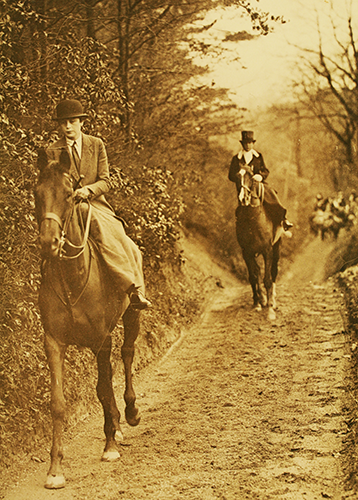 Women in the Field
From Day One the women in The Match were phenomenal. Allen Potts, whose wife, the former Gertrude Rives, was Master
and
huntsman—the only woman huntsman in the US at the time—of The Castle Hill Hounds outside Richmond, Virginia, included in his daily wires to the
Times-Dispatch
the progress of the eight or ten women who rode in The Match every day. Beginning with Terry Dulany's sensational jump the first day of The Match on her horse 'Welbourne Bachelor,' Potts was clearly in awe of the Amazons riding to hounds that November.
[From The Great Hound Match of 1905. Photo courtesy NSLM]
WHAT I'M READING NOW
---
God help me, I always have five or six books going at once.
I'm embarking on Mary Lee Settle's huge oeuvre, beginning with her Beulah Quintet, which includes Prisons, O Beulah Land, Know Nothing, The Scape Goat and The Killing Ground. In the mean time I'm reading her first memoir, Addie; A Memoir, and her last, Learning To Fly: A Writer's Memoir, published posthumously.
Biographies: Christoph Irmscher's Louis Agassiz: Creator of American Science (Agassiz was Alexander Henry Higginson's father-in-law, about whom I wrote in The Great Hound Match of 1905 and The Life of Charlotte Brontë by Elizabeth Gaskell.
Also and including:  The Empire of Cotton by Sven Beckert; How to Live: Or A Life of Montaigne in One Question and Twenty Attempts at an Answer by Sarah Bakewell. And I'm listening to Kim Basinger read The Awakening, by Kate Chopin.